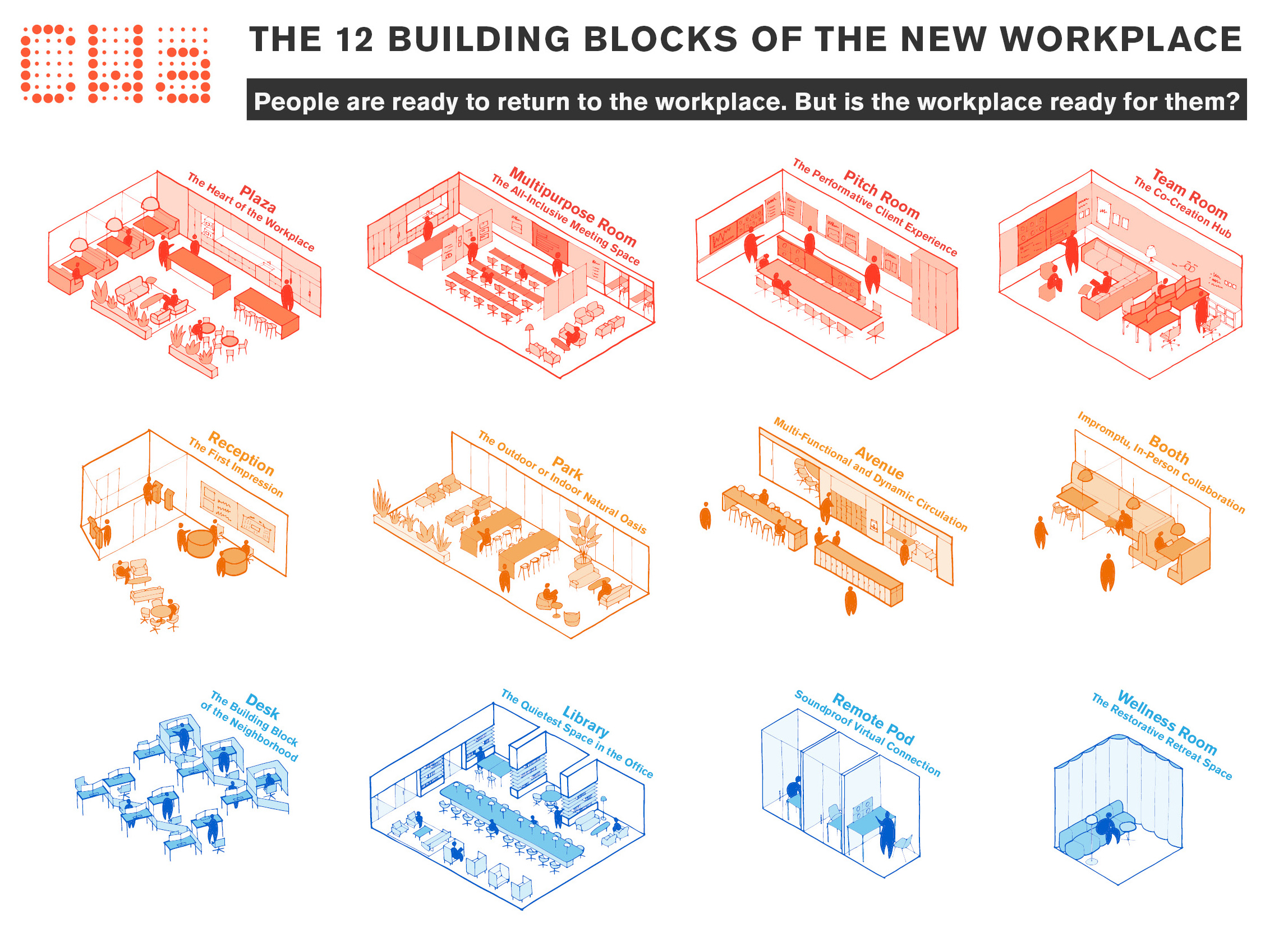 16 Apr

The 12 Building Blocks of the New Workplace

After a year of uncertainty in the pandemic, two things are clear – the office will live on, and we will not be returning to the way things were. The COVID-19 remote working experiment has put into focus what can – and can't – be done without a physical workplace. The powerful social and collaborative benefits the workplace offers have also made themselves painfully clear as many of us have been forced to get by without them. Now that the vaccinated population is growing, organizations are faced with navigating the new landscape of work. This is where the challenging questions begin: Why will people come to the office? How will the office perform? Who will come to the office and how often? How does the office need to change based on all this?

A wide spectrum of work models has emerged ranging from 'work anywhere' to '100% in-office'. These extremes may be too radical for many organizations with 'work anywhere' employees feeling disconnected and '100% in-office' employees feeling a lack of trust. The hybrid model arises as a reasonable middle ground, and there's a growing body of research to support it. This model offers flexibility for employees to work part-time remote and part-time in-office. Studies show that 55% of employees would prefer to be remote at least three days a week once pandemic concerns fade. But this popular hybrid work model comes with its own challenges and demands a highly tailored approach for each organization.

The one-size-fts-all office is dead, but we knew that already. At Clive Wilkinson Architects, we've been designing trailblazing workplaces for some of the world's most creative companies for 30 years, from advertising agencies like TBWA/Chiat/Day and Publicis to tech companies like Google and Microsoft. In reflecting upon this paradigm shift, our team has thoughtfully considered where work has been and where it is going. This is an opportunity to transform and redefine the workplace – what parts we have outgrown and should be discarded and what new opportunities we can embrace.

In response, CWa Associates Caroline Morris and Amber Wernick have developed the New Workplace Kit of Parts – 12 reimagined spaces to support and enhance new ways of working in the post-COVID-19 workplace. Please check back for access to The 12 Building Blocks of the New Workplace.